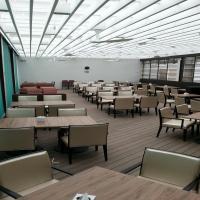 Start off your day with "smoothies" and pack in a punch of rich anti-oxidant blends of fruit, vegetables and nut milk, perhaps! Part of the excitement of going for smoothies is the concept of putting together your favourite selection of fruits and vegetables and walking right out the door with a homemade cool, nutritious drink. They are a good replacement meal and can be used for weight loss or for weight gain. Plus, all you need besides your ingredients is a reliable blender.
Smoothies have been around since the 1930s in the United States when health food stores started selling pureed fruit drinks. As this trend meshed-in with the rise in popularity of the Waring Blendor in the 1940s, the recipes for these fruity blends took an interesting change of direction. This was met with open arms by health advocates.
With a thick, milk-shake like consistency these plant based beverages are typically good for you, easy to prepare and takes the hassle out of cooking. They can contain any food of your choice and have been popular with yoghurt, whey powder, soya and nut milks. Not all thick, plant-based beverages are alike. Some are just plain self-indulgent and condensed with unnecessary calories from added sugars that they become only marginally nutritious.
For healthier alternatives take the opportunity to blend as your means of including ingredients that are insufficient in your diet; foods such as your greens and fibre grains. When you do, you will feel satisfied and totally energised and healthy; while getting quality amounts of nutrients in each condensed liquid meal.
Anti-Aging ingredients of green smoothies
Try starting your day with oatmeal cereal and raisins using old fashioned rolled oats with the germ of the grain still intact, uncooked and softened after being soaked (1 minute) in cold nut milk. I personally don't vary much from that, unless it's to have a smoothie using similar ingredients from my cereal (without the raisins), with a banana added and poured over crushed ice.
With this beverage you will remain full for up to 3 to 4 hours. It's packed with high amounts of protein, fibre, potassium, calcium, and other minerals and vitamins. You will also have sustained energy as the sugars are slowly released in the body keeping you invigorated for the next few hours; unlike refined sugars added into some blends that are absorbed quickly and gives you only a short burst of energy followed quickly by a big "crash" or listlessness.
Green smoothies are easy ways to get polyphenols and chlorophyll and other rich plant nutrients in the diet by adding a green vegetable into the fruit blend. You can experiment with kale, spinach, and cucumber but choose a variety of greens throughout your week to get the anti-aging benefits from each source. You will notice your cravings for greens go up as your appetite for less nutritious foods decline.
Try to have one or two blended beverages for the day, if not more for weight balance purposes.
The trick with blended beverages is to watch how much you drink. Because they are a drink, they can be very deceiving. Consider blends as meals by themselves and don't have anything thing else to eat for at least 2 A� hours afterwards, but still remember to keep up your liquid intake. Fruit blends can be high in calories, some as much as 800 kilocalories or more. If this is combined with other foods in one sitting, you can see how easy it will be to gain weight.
Washing your fruits and vegetables are smart first steps before consuming them. When making your smoothies try freezing them ahead of time in a zipped lock bag; this trick eliminates the ice in the recipe, saves time and you will get a rich, thick, creamy consistency every time you blend.